Oral Surgery Specialists in Western New York
As a multi-specialty dental practice, Inspire Dental offers the complete range of care without having to see someone outside of our practice – which is even more important during delicate procedures or after an accident.
Dr. Kemp and Dr. Lin are oral and maxillofacial surgeons who can perform surgery for facial trauma such as a jaw or cheek bone fracture. We offer corrective surgery for people who are born with skeletal deformations, which can correct jaw and mouth structures to improve alignment and function. These procedures are performed at a local hospital.
What is Oral and Maxillofacial Surgery?
Oral and maxillofacial surgery is the specialty of dentistry which includes the diagnosis, surgical and all treatment of diseases and injuries involving both the practical and cosmetic aspects of the hard and soft tissues of the oral and maxillofacial region.
Some of the most common surgeries include:
• Impacted teeth/wisdom teeth
• Gum graft
• Dental Implants
• Maxillofacial surgery
• Jaw and teeth repair following an injury
Frequently Asked Questions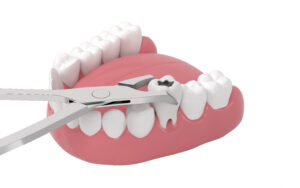 Our dentists will use every measure to prevent tooth loss, but sometimes a tooth extraction is still necessary. This might be the case when a tooth is too badly damaged to repair, a baby tooth doesn't fall out on its own, more room is needed for teeth to move during orthodontic care, or a tooth is too far out of alignment to be corrected.
Before a tooth is removed, the dentist will take an x-ray to understand the shape and position of the tooth and surrounding bone. For a simple extraction, we will first apply a local anesthetic to prevent pain and discomfort. After the procedure, we will provide care instructions to alleviate discomfort and ensure proper healing.
Reasons For Tooth Extractions:
A crowded mouth
Infection
Risk of infection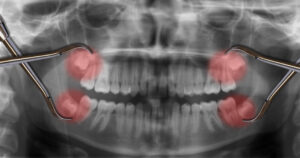 Wisdom teeth are the last molars, or "third molars," that develop on each side of the jaws. Wisdom teeth usually emerge in the back of the mouth between the ages of 16-20.
Wisdom teeth are a valuable asset to the mouth when they are healthy and properly positioned. But when the jaw isn't large enough to accommodate wisdom teeth, they can become impacted (unable to come in or misaligned). Wisdom teeth may also grow in sideways, emerge only partway through the gum or remain trapped beneath the gum and bone. These are all common issues that require wisdom tooth removal.
A wisdom tooth extraction is a relatively routine procedure. The dentist will numb the area in your mouth with local anesthesia or use IV sedation so you are asleep during the procedure. After the tooth is removed, we will provide care instructions to ensure proper healing.
As wisdom teeth begin to erupt, your dentist will be monitoring your mouth for the following signs:
Wisdom teeth that are not in the right position can allow food to become trapped which allows bacteria to grow and cavities to form.
Wisdom teeth that have not come in properly, which can make it difficult to floss.
Wisdom teeth that have partially come through can give bacteria a place to enter the gums and cause infection. This can also cause pain, swelling, or stiffness in our jaw.
Wisdom teeth that do not have room to come through may crowd or damage neighboring teeth
A wisdom tooth that is impacted can form a cyst near the impacted tooth, this could damage the roots of nearby teeth or destroy the bone.
A dental implant is a substitute tooth root that serves the same function as a natural tooth root. We have specially trained oral surgeons who are here to help you invest in your long term oral health. Learn more here.
"Coming from someone who is nervous at dental appointments, my experience at the Inspire Dental group was wonderful. Everyone was friendly, professional, very skilled at what they do and positive. They put me at ease. I highly recommend them to anyone needing an oral surgeon."
"They were able to get me in with the oral surgeon quickly after my consult, and accommodated my schedule. No one enjoys having teeth pulled – but when necessary – it's nice when the procedure goes smoothly without a hitch. The staff kept it light with musical trivia & helped make me feel at ease while I was in the chair."
Douglas K
Facebook Review
"They got me in fast for an abscess. Everyone was so nice and made me super comfortable. They even played good music to keep me calm during the extraction! I'm so great full for everyone who helped me today!"
"The oral surgeon was very pleasant and answered all of my questions. The spa music provided a relaxing environment. The tech was very helpful and knowledgeable. I would recommend them to a friend."
"Pleasant team, efficient, and followed up after the procedure. Highly recommend for anyone needing oral surgery."
"Excellent quality of care. Awesome staff, really makes the whole experience painless. Oral surgery staff is fantastic."
"I was quite nervous about having a tooth extraction! I thought for sure I'd have to be sedated! But everything went along just fine! The staff and the Dr and her assistant were informative and understanding. No pain! I would highly recommend Inspire Dental!"
"I had my wisdom teeth pulled and it was so quick and problem free. They explained everything and answered all my questions. I was sent home with instructions that were very detailed and the doctor's phone number. Everyone is so friendly. I recommend them to all my friends."
"I had my consultation for getting all 4 wisdom teeth removed – not something anyone looks forward to!! They were super nice and professional, and the inside vibe made it a really cool visit? Definitely not a normal dentist office, updated and modern."
Western New York's Most Comprehensive Team of Family Dentists